Today's cards are all about lots of layers, pretty pattern paper, and super simple stamping. I'm combining a new Unity Stamp Company release for a set of vintage cards perfect for thank you cards, to spread kindness, or to express gratitude to all the caregivers out there.
I love to create at least two cards while I have my supplies out. It maximizes my crafty time and allows me to get more bang for my buck when using a new stamp set or supply. I'll sit down and think about all the ways I'd like to use a new stamp set and go from there. I pull out my supplies and focus design a different layout for each card plus one featured element or accent to make it special and unique.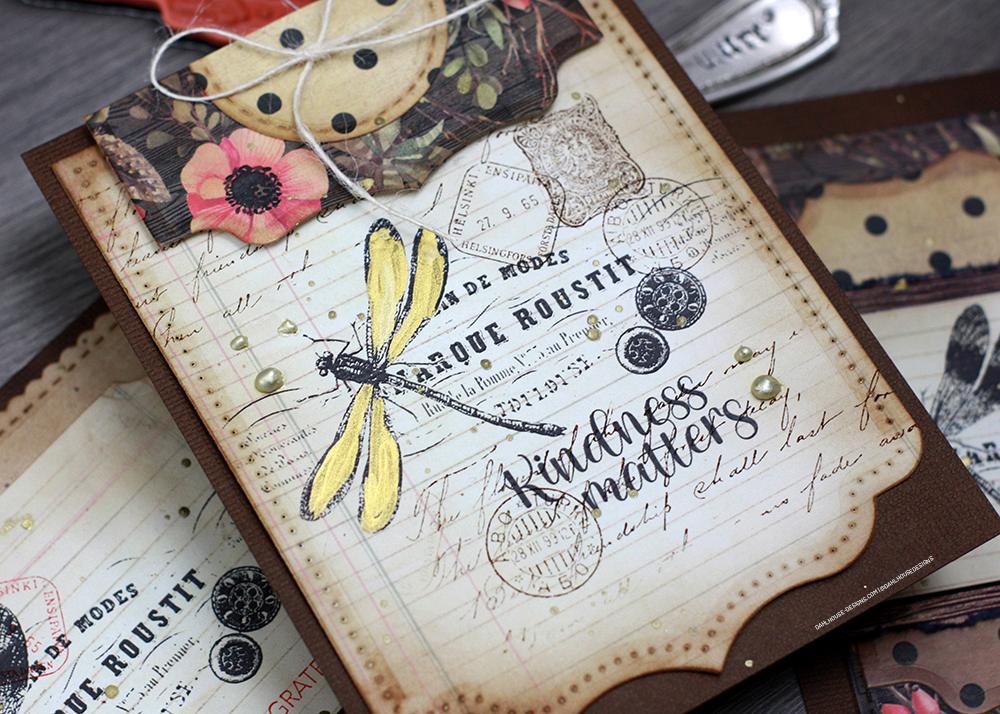 Featured Supplies

Caregiver Bundle

USC

Kindness Matters Dragonfly

USC

Best Caregiver Ever

USC

Soul Mail

USC

Sunflower Wishes

USC

Season of Thanks

USC

Scallops & Rectangles dies

USC

Scallops & Circles Dies

USC

Scallops & Squares Dies

USC
I have all the details and processes for creating each card in the video at the bottom of this post. I sure hope you'll be able to join me for some crafty time.

Card #1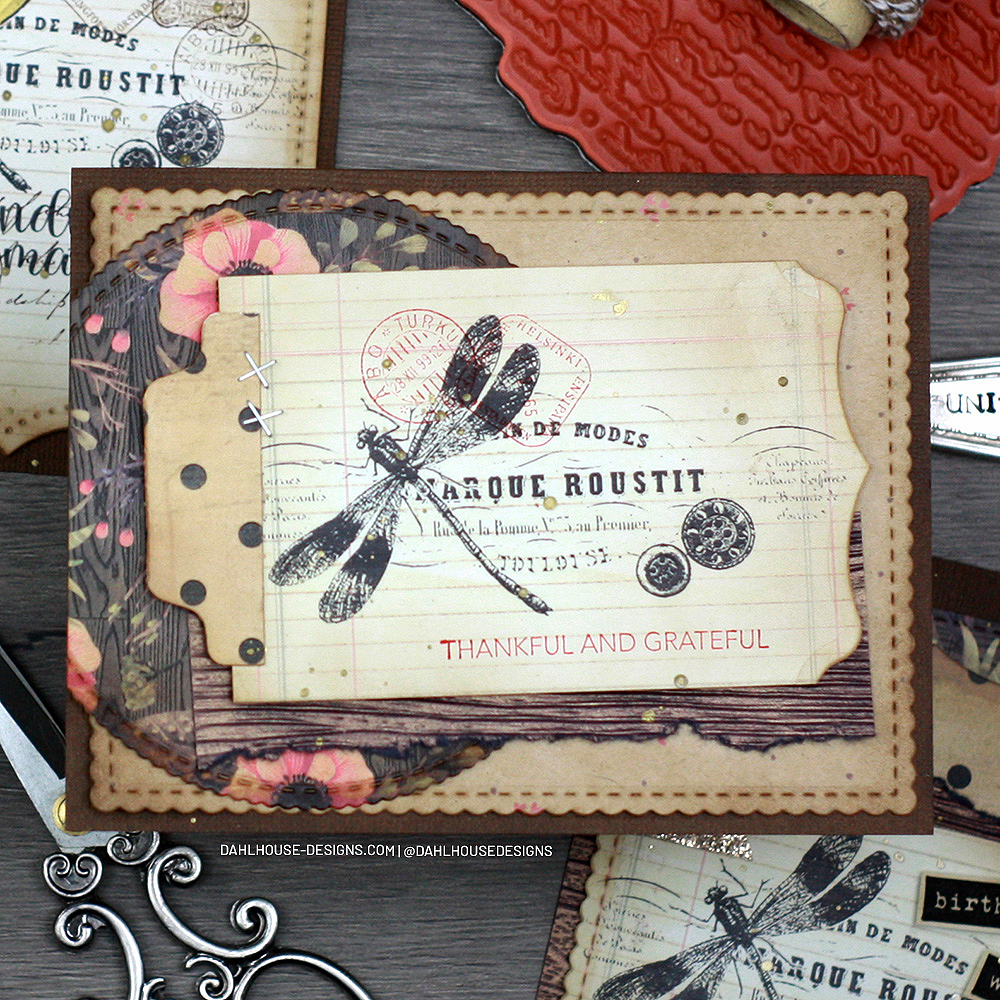 The Details
The new Kindness Matters Dragonfly has a beautiful vintage feel that was calling out for layers and shapes and distressing. So my mind started to turn and I went to my pattern papers and die sets for direction. I start out by die cutting my pattern paper and layers to figure out my design to feature that beautiful dragonfly.
Featured Element: To make this card special, I added some coral stamping for the postage marks and sentiment plus tiny crisscrossed staples. Both add an extra layer of texture and color that really make the panel pop.
Card #2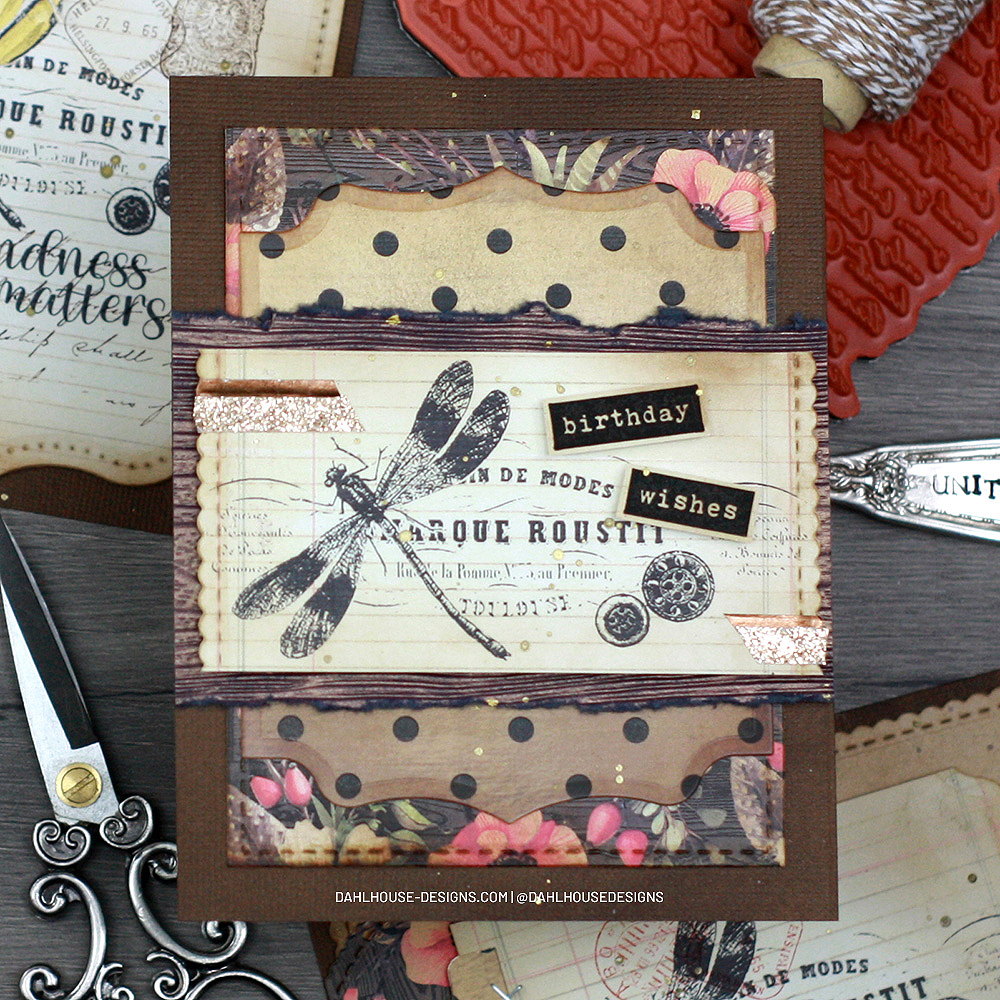 The Details
All the cards feature that dragonfly as the main image but I'll switch up the shape of the panels to make them a bit different. I searched through my stamp sets to find a birthday greeting that matched this vintage style and Sunflower Wishes had just what I was looking for.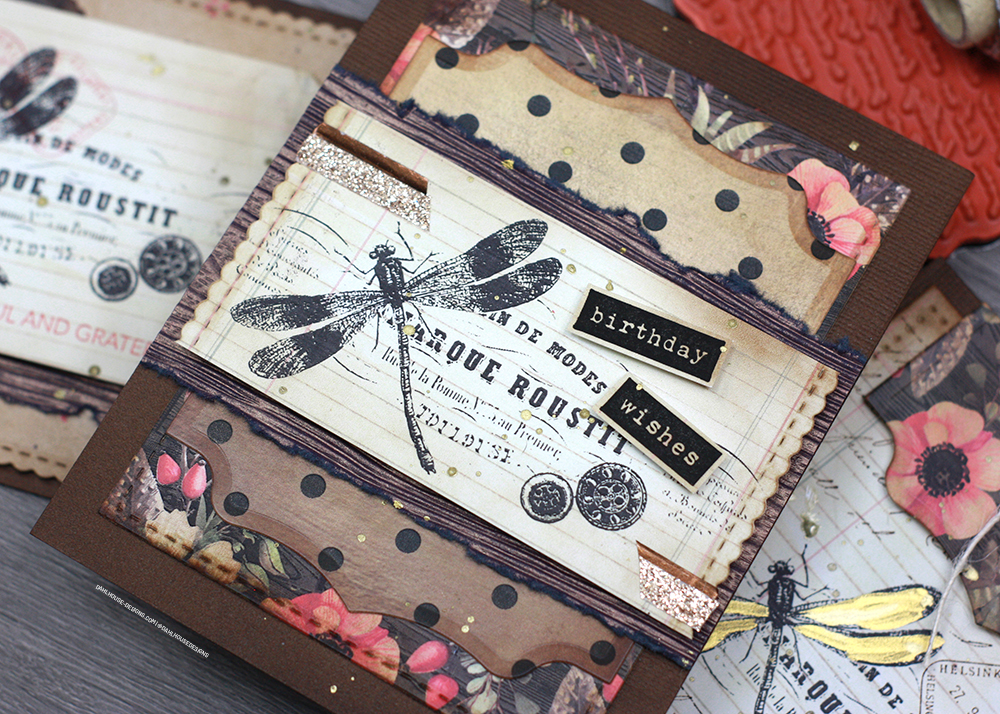 Featured Element: The torn layer of the wood grain embossed paper adds lots of texture to this card. To jazz up that dragonfly panel, I added strips of glitter and metallic washi tape. You could add shiny embossing powder, strips of pattern paper, or maybe sequins or gems instead.
Card #3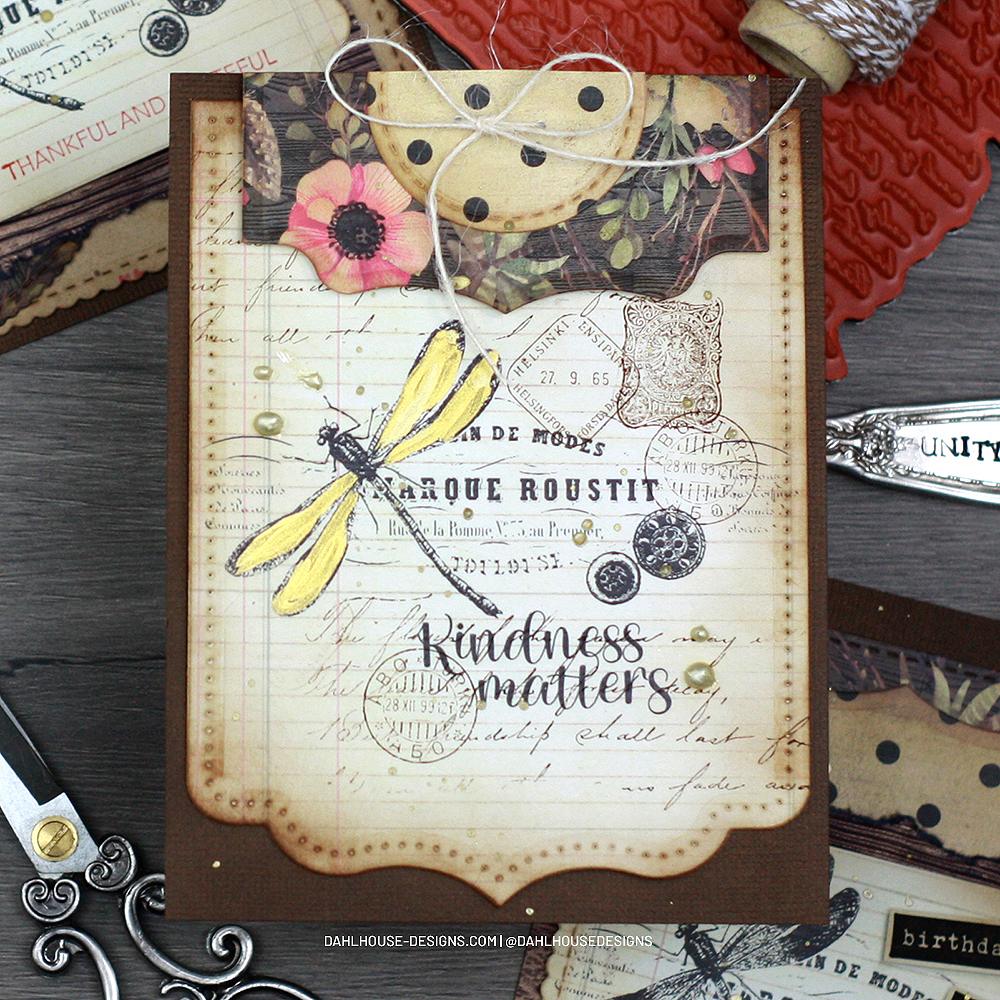 The Details
For the last card, I made a very large die cut panel that includes the dragonfly and sentiment. The shaped die cut added to that vintage look and I repeated those shapes in the pattern paper topper with the string bow. To add more vintage details to the panel, I stamped some vintage stamps and postage cancelations along with a scripty background to add to the mixed media look.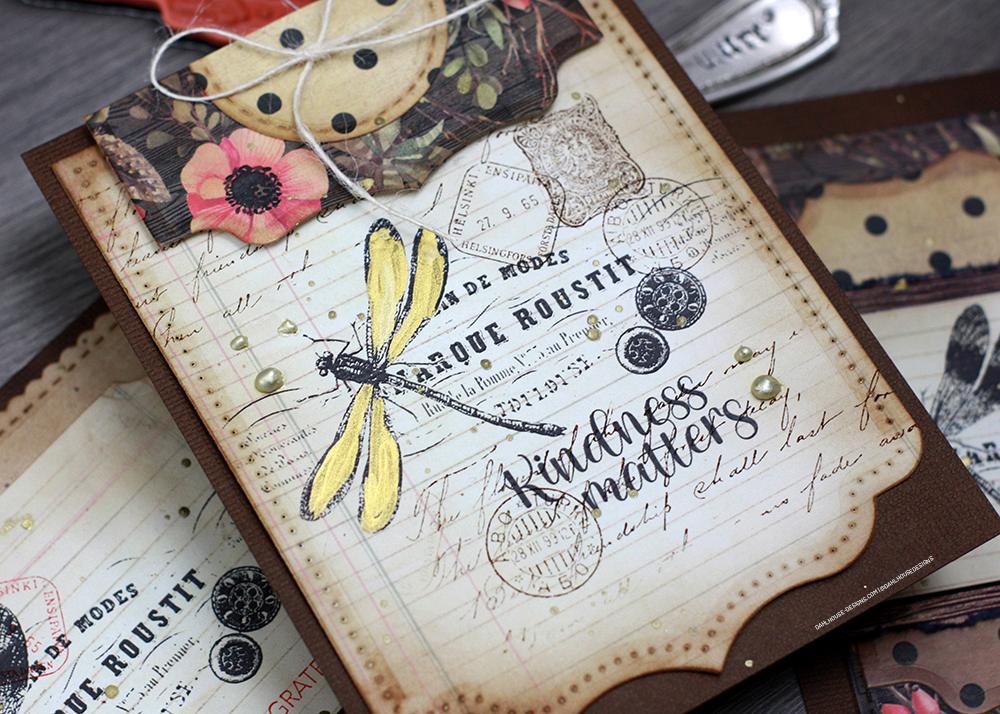 Featured Element: Bring on the shine. I added gold watercolor splatters to all of the cards and used the leftover paint on my brush to make the dragonfly wings gold. A pretty good last minute decision, don't you think?
Video
Watch along as I assemble this card sharing my process and tips on how this card was created.
Thanks for joining me today. I hope today's project inspires you. If you create something, tag me – @dahlhousedesigns – on social media because I'd love to see it. Join us in the Unity Show & Tell Facebook group to share your Unity creations. It is such a fun and loving group of creators.
Supplies
*Affiliate Links may be used at no additional cost to you. I appreciate the support if you are inspired to shop through my links.
Wood grain paper {discontinued} – this looks like a nice substitute: http://shrsl.com/ecm8-5qd-l6nxnx_1-1

Caregiver Bundle

USC

Kindness Matters Dragonfly

USC

Best Caregiver Ever

USC

Soul Mail

USC

Sunflower Wishes

USC

Season of Thanks

USC

Scallops & Rectangles dies

USC

Scallops & Circles Dies

USC

Scallops & Squares Dies

USC

Ornate Banner Die

OTH | AMZ

Rabbit Hole {digital paper}

OTH

Hummingbird Nectar {digital paper}

OTH

Neenah Desert Storm 80lb

AMZ

Hammermill Cardstock 100lb

AMZ

Distress Ink Set #6

SB

2018 Ink Cube Set

OTH

Nocturne ink

SB

Ivory Burlap String

USC | AMZ

Tiny Attacher

SB

Kuretake – Gansai Tambi

SB

Paint Brush Set

AMZ

File Tab Punch 3″

AMZ

Pale Gold

SB

Glitter Washi Tape .25″

AMZ
Most Used Tools

Nuvo Deluxe Adhesive

SB

Glossy Accents

SB

Cutter Bee Scissors

SB | SSS

MISTI – Mini

SB | SSS

MISTI – Original

SB | SSS

Foam Roll – 2 Inch

SB

Foam Roll Combo Pack

SB

Big Shot

SB

Stamping Tool

SB

Pixie Tape

SB | OTH

Glue Bottle

SB

Jewel Picker

SB

Media Mat Mini

SB | SSS

Multi-Use Sticky Mat

SB

Silicone Craft Mat

SB

Blending Brushes

AMZ

Rhinestone Pencil

AMZ

Reverse Tweezers

SB

Post It Note Tape

AMZ

ATG Adhesive Tape

AMZ

Mini Stencil Mat {alternative}

SB